Nelson MX
I made the trip off the island of Montreal this weekend to check out the
Nelson MX Carbon Fiber shop
. These guys started out making Carbon components for motor bikes, and are involved in the aircraft industry and doing their own R & D.
Nelson MX GTS-T
I was greeted by Marc who kindly showed me around the shop, as we discussed the projects he's been working on, and a flagship vehicle which he's been using to make custom parts and demo the products. He's been working on a R32 Skyline GTS-T with the RB20DET motor, and although it's the smaller motor in his car, having been around the track with Marc last year, I can say confidently that his car is very quick. because of all the weight reduction he's done, and engine work, I would even go as far as to say that his car is quicker than some of the GTR's I've seen,
Marc was also one of the only people to reach speeds like 210 km/h on the back straight of our track day at
Sanair Track
last summer.
Nelson MX GTS-T
Weight matters in a big way when your goal is to improve speed and handling, so as he showed me around some of the work he's been doing to his car, I was quite impressed. He's already taken the engine out, and started to remove a lot of the "unnecessary" bits.
RB20DET # 1
I was poking around looking at the engine on the stand, and trying to figure out in my head what his plan was for this thing? The head was off, and on his work bench off in the corner, and as I walked around the rear of the car I had to do a double take! I thought for a moment that I saw a second engine, sitting on the floor.
RB20DET # 2
Well my eyes did not decieve me, it was true, so I asked: "Hey, whats with the two engines?". He explained that when he got this car originally it actually came with a spare parts car that had been crashed, sort of a two for the price of one deal. He had two transmissions, two engines, and a number of other duplicate parts around the shop. This is a huge advantage for anyone who owns one of the cars, as most know sometimes finding that one small part you need, can be very costly otherwise.
RB20 head
Over at his workbench, he started to explain the plan to me as I fiddled with some of the hydraulic lifters on the head, I could see this was making him nervous but I fiddled on! For me (an RB26 owner myself) this hydraulic lifter system seemed so very alien. Anyways, Marc explained that he would be doing something special with one of these turbos, some sort of hybrid, he couldn't elaborate any further than that though, we'll have to wait and see for ourselves!
Turbos
After rebuilding the bottom end of one of the motors, he was going to be dropping in a set of Tomei "Power Of Needs" cams... which is where the P.O.N in Poncams comes from! He also had a new Greddy timing belt kit to go on, upgraded valve springs, and a new head gasket as well. It was pretty clear that this car was going to be making some serious power this coming season. I can't wait to see 'em on the track and have a showdown, car to car.
RB20 Upgrades
Last season his car was quick, I cannot fathom what sort of aggression this beast will be able to deal towards its driver once Marc's finished with it. I find that a lot of people underestimate the real potential of the GTS-T Skylines, most are of the mindset that its GTR or bust. Having been for a few laps in a couple of GTS-T's myself last season, I can say honestly, that's not necessarily true.
Custom Plenum
Marc showed me the custom intake manifold he's been working on with the shops new welding and plasma machines, this thing was a real piece of art, so very clean and well done. The plan is to move to a forward facing intake manifold as he will also install a GTR front mount intercooler in place of the smaller side mount that comes normally.
Although the GTR will usually make significantly more power, as racing has proven time and time again, it's not just the power that you make, but how you get that power down to the ground, and even though the GTS-T is rear wheel drive (Vs. the GTR's AWD) these cars have so much less "stuff" on them than the GTR does that they seem to handle better, and not just that but they also brake faster and accelerate quicker from a rolling start. Off the mark its a different story because of the AWD advantage though. With all this racing talk going on, I caught a glimpse of a gem hidden under a car cover behind a trailer at his shop, it seems there's more racing pedigree in Marc's blood than I realized, as I unveiled his Porsche 911 S, what a beautiful classic car!
Porsche 911 S
Carbon Fiber...
Rolls of Carbon
So, with a tour of the place under my belt I asked Marc to show me a little bit of the process they use when making Carbon bits. He explained the many different trade secrets (which I cannot share here) for manufacturing and molding this special stuff. There were a few desks around the shop, one of them had big rolls of Carbon and fiberglass weaves, as I went to grab the rather expensive Carbon weave and began to pull the tiny threads out, Marc explained the technical side of this sort of thing, 2 x 2 and 3 x 3 weave patterns, how they layer their products with some using a sandwich of carbon, then fiber glass then more carbon in alternating directions to give added strength.
Mold for Carbon
All this technical jargon was sort of lost on me though, I was mesmerized thinking of all the possibilities this stuff could produce. We went over to another desk where he explained the different processes for molding things, it turns out that this is a very big step in the manufacturing process, getting the mold just right is key to a good quality product. And he did have a few finished products laying around that were looking very sharp indeed!
Here's a couple photos of some of the finished products he had around:
Carbon Fiber DIN plate
Carbon Fiber Climate Control Cover
One of the sharpest looking bits I'd seen all day was this fantastic Carbon coil pack cover: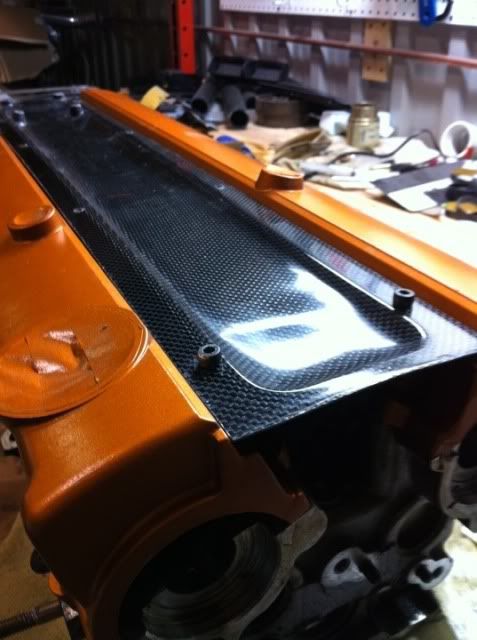 Carbon RB20 Coil Pack Cover
He was also in the middle of making a very nice Carbon air diffuser panel to channel more air into the radiator: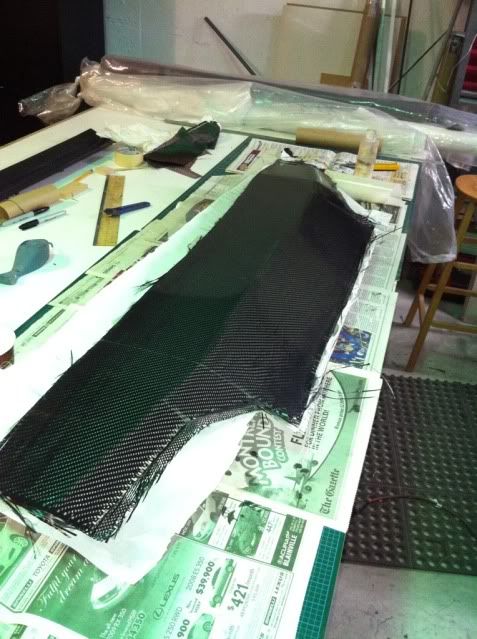 Carbon Fiber Air Diffuser Radiator Panel
These Chibi trunk lid spoilers were very clean, and would make an excellent addition to any car.
Carbon Fiber Chibi Trunk Lid Spoiler
He also had an Nismo N1 replica front lip spoiler in Carbon! This, I reckon, would look very sharp on my own car, perhaps an order into Marc for myself would be in the cards later on...
Carbon Nismo Replica Front Lip Spoiler
We made our way back to his car where he showed me how he'd stripped out the interior, removed all the sound deadening and was on his way to a sub 1100kg car. This thing looks so fierce, the interior is as bare bones as anything I'd ever seen before, the attention to detail is just stunning.
He's taken out the back seats and replaced them with this custom made Carbon fiber wall, which meets up with a Carbon Fiber rear parcel shelf, as pictured below.
Carbon rear firewall
This man is a wizard with Carbon fiber, everything he's done is done to the point of perfection, flawless workman ship.
carbon rear parcel shelf
Marc made this Carbon and red Kevlar weave backing plate for my own car the season prior, and it looks absolutely stunning! I covered this earlier in my
Custom Cockpit and Center Console
how to guide.
Carbon and red Kevlar Center Consoler Backing Plate
On that note, I thanked Marc for the inside look at the Carbon fiber world, and we went our separate ways. God, I cannot wait to meet this car again on the track this coming season, I'll be very interested to see just how much faster it is. Once it's running again, Marc's agreed to take us for a spin, I'll be sure to make a video of that when the time comes.
You can follow Marc's own build blog online here:
Nelson MX GTS-T build
, and I've also added his link to the "links I like" section on the right.